At Brighton Bike Sheds, we take security very seriously, and unlike most other suppliers, we don't charge more for it. We believe security is fundamental and we build it in layer by layer.
Hinges
The hinges are heavy duty galvanised T-hinges fitted externally using security 'one-way' screws. T-hinges are extremely sturdy and work well in supporting the considerable weight of the doors. The security clutch screws used to fix the hinges can only be tightened, not loosened.
---
Locks
A secure long-throw bolt is fitted internally. Turning the key extends a hardened steel bolt into a steel locating plate. The locks come with a set of 4 security keys and the key-holes are finished with a circular key plate.
---
Drop bolts
On double doored sheds (all Classic sheds and 4-6 bike Slot-in or 4-6 bike Vertical sheds) the left hand door bolts shut at top and bottom to firmly secure the left door before closing the right hand door and then operating both locks. We use 100mm heavy duty galvanised bolts.
---
Cladding
All cladding is fixed to the structural frame with galvanised nails. The roof overhang detail means that cladding is locked to the frame and is firmly anchored to the shed.
Over-hang on roof. The roof extends over the doors by 50mm, which is enough to make it impossible to manoeuvre a crow-bar or similar tool behind the doors.
---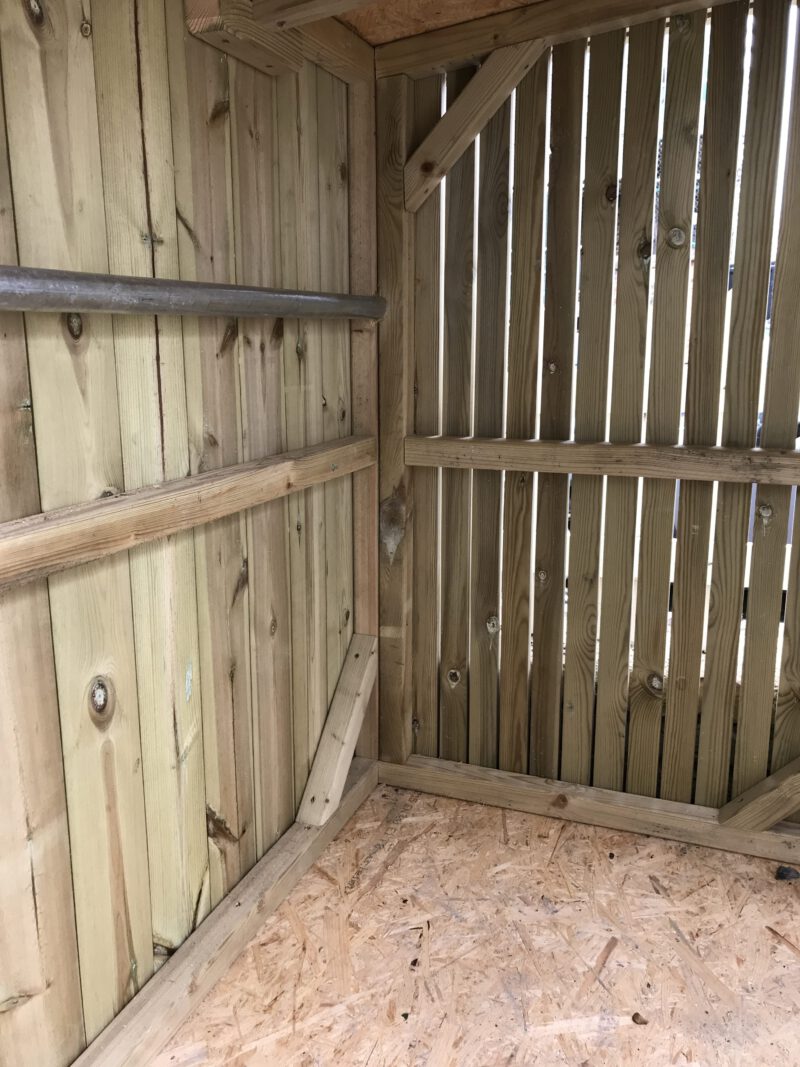 Inside
Internal second-line security is covered with our Secure Bar, a 32mm thick galvanised steel bar which is drilled into the frame on the back wall inside the shed and would require power tools to cut through. This bar is easy to lock bikes to with your U locks, or a long motorcycle type chain which runs through all the bikes inside (or best of all, a combination of both). The Secure Bar is a standard feature fitted on all our sheds.