How to Order
Ready to order?
Measure your space (pay extra care to measure just the usable, unobstructed space available)
Choose your style (classic, slot-in or vertical), size (1,2,3,4,5 or 6 bikes), cladding and roof option
Decide on whether you want the installation option (London, Brighton and south east and selected mainland areas only)
Purchase a bike shed from the products pages
We'll take care of the rest!
You'll receive:
Confirmation of order
Approximate delivery date / installation dates to chose from (if selected)
Your bike shed will be ready to use within 12 weeks from receipt of your order.
This is usually 20-30 working days but we have had to extend lead times due to increased demand (as of June 2020).
Measuring your space
We have designed our bike sheds to be as compact as possible to fit into the tightest spaces, but without making them awkward to use. However, please do carefully check the given dimensions of the bike sheds against the dimensions of your space before ordering online. If the space is tight you should ensure that there is some wriggle room of ~5cm on both sides and there is at least 80cm of space in front of the doors to allow them to open fully.
If there are branches or protruding foliage behind or above the site, please clear these prior to the installation. Especially ivy, as this has a habit of finding its way into all timber structures.
If there are obstacles or you have any doubts about fit just email us or send a bespoke enquiry with a few pictures of the site you have in mind. Remember, we can easily accommodate small tweaks to the standard sizes if required and don't charge any extra for these. We build a lot of Classics that are 1.8-1.9m wide and these still fit most bikes.
Roof overhang
Please be aware that the roof has a 40mm overhang on the left, right and front (Classic/Slot-in) and a 40mm overhang on left, right and back (Vertical). There is a 70mm gutter on the back of the Classic and Slot-ins, and on the front of the Vertical units. This is not normally an issue because garden walls are mostly under 1.2m tall so the overhang/gutter go above that. But if the shed is going up against another structure there would need to be an allowance made for this when preparing the base.
For example, if the shed is going up against a brick wall on the right, the right hand edge of the base would start 50-60mm away from the brick wall (which will give 10-20mm clearance). Or if a Classic is going to stand with its back against a tall fence then the back edge of the base would be sited 80-90mm away from the fence, giving 10-20mm clearance to the 70mm gutter. If you have any doubts a picture says a thousand words. Just take a quick phone pic or two and email along with some key dimensions.
Front Gardens
Our Classic Bike Sheds are very suitable for front gardens. They are all 2m wide (unless a bespoke size) and no more than 1.4 metres high even with a green roof. The most practical solution is to site the shed at right angles to the house, with the double doors opening towards the front path. So the important dimension to check is the distance between bay window and front fence/wall.
Vertical units are mainly too tall for front gardens (although we have installed in some front garden sites where the shed tucks in behind tall planting/hedges). Slot-in units are 1.5m tall so mostly they are too tall for front gardens. But we often make a low-roof Slot-in for front gardens.
Back Gardens
There is usually more space available in back gardens but still check dimensions if you have drains, manhole covers, trees or other obstacles to work around!
Bespoke orders
We love building bespoke versions of our bike sheds and associated products.
If you want a made to measure bike shed just email us with photos, drawings (a rough sketch is fine), measurements and your postcode or fill out the bespoke order form, here.
We'll provide an estimate to create exactly what you want. In general the closer to one of our core products the more cost effective this will be.
Classic Bike Shed
Ideal for front gardens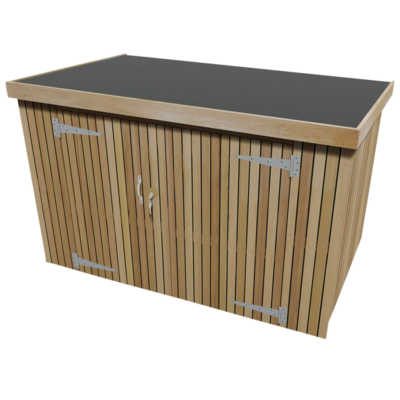 Slot-in Bike Shed
Great for individual access
Vertical Bike Shed
An outdoor wardrobe for your bikes