Option 1: Self-assembly (Delivery only)
Free delivery to UK (except Highlands and Islands where surcharges apply)
Please note: due to size restrictions on pallets do not deliver 5-bike or 6-bike Slot-in units or any Vertical units in Zone 2. If you are in our Delivery Zone 2 you would therefore need to select from our Classic range (1-6 bike) or our Slot-in range (1-4 bike).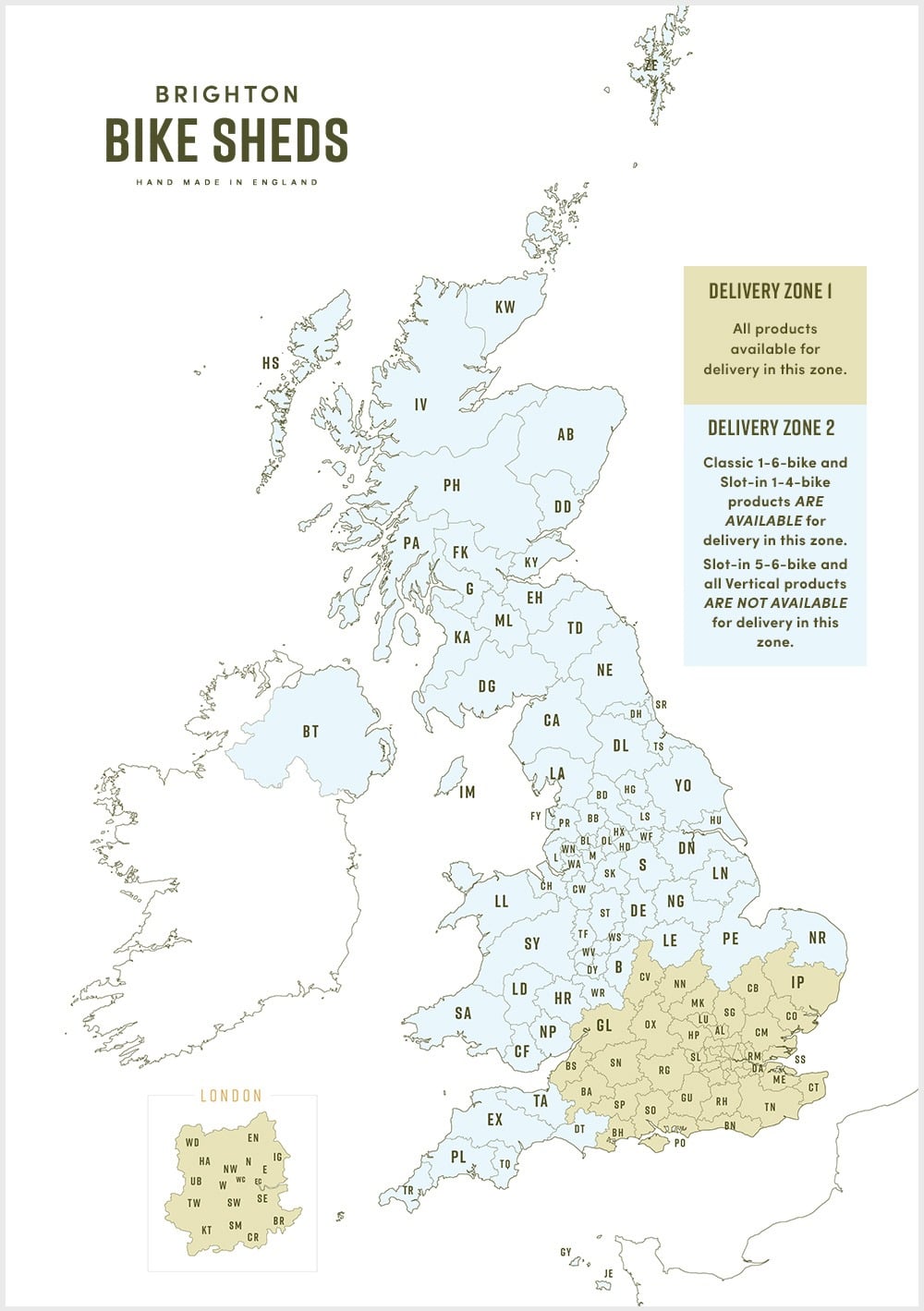 Please contact us if you live in these post codes: PA (20, 41-49, 60-78) £30.00, KA28 £90.00, IV (41-49, 51, 55, 56) £90.00, PH (42-44, 49, 50) £90.00, KW (15-17) £250.00, KA27 £105.00, BT £10.00, DUBLIN £40.00, EIRE £40.00, IM £300.00, GY £300.00, JE £300.00
EU and USA – contact us with postal/ZIP codes for delivery cost estimates (please note that you will be responsible for paying any import or duty charges locally).
All Brighton Bike Sheds products are delivered by courier services on standard pallets.
If you order a self assembled kit, we will first send you a confirmation email asking you to select a date to receive delivery. Once confirmed with you, we will book your selected date with our courier partners and they will deliver at between 9am and 5pm on that date. In the unlikely event that the pallet is delayed they will contact you on your mobile and also keep us aware of any hitches as they unfold so that we can keep you updated. Please rest assured that we will do our utmost to get your shed to you on the specified date.
The pallet is large and heavy and the couriers will use a pump truck to offload it as close as possible to your property. If there are unsuitable road surfaces or restricted access, you will need to unpack the pallet and manually transfer the components by hand to your property, so it might be worthwhile getting a friend or two lined-up to help!
The courier will call you ahead of their estimated arrival time. If there is nobody in to receive the pallet on the specified date the courier will make every attempt to contact you to check your whereabouts. The courier reserves the right to pull the vehicle out and invoice you for a wasted journey if there is no solution on the day.
Lead time
We aim to deliver within 10-12 weeks from receipt of your order. This is usually 20-30 working days but we have had to extend lead times due to increased demand (as of June 2020).
Option 2: Installation
Our installation service is available with delivery to certain postcodes in the UK for an additional cost. Details of the zones and relevant charges can be found in the diagram below (click to enlarge).
Zone 1 (£125.00) – BN1.
Zone 2 (£200.00) – AL, BR, CB, CM, CO, CR, CT, DA, EC, E, EN, GU, HA, HP, KT, IG, LU, ME, MK, N, NN, NW, OX, PO, RG, RH, RM, SE, SG, SL, SM, SN, SO, SP, SS, SW, TN, TW, UB, W, WC, WD.
Zone 3 (£250.00) – BA, BH, BS, CV, GL, IP.
Zone 4: Rest of UK – self-assembly only.
If you order an product to include our installation service, you will receive a confirmation email asking you to select a date for the install. Once confirmed with you, we will deliver and install your shed in the location that you have cleared and made ready. If you are the first installation of the day we will aim to arrive with you by 8am, unload our van and start installation by 8.15am. If you need to leave for work or the school run earlier than 8am let us know beforehand so we can plan to arrive earlier to confirm the location of the shed with you. If your installation is later on in the day we will contact you nearer the time about an ETA.
If the access is through the house (back garden install), you will need to ensure that a responsible person is at your home for the duration of the installation, which usually takes between 3 to 4 hours. If there is a side access or the shed is to be sited in a front garden, it is not essential you are at home during the installation once you have confirmed the location for the shed. We use cordless power tools so won't need access to your house. Any parking permits or cups of tea are gratefully received.
Covid-19 Protocol
We will install/deliver your Brighton Bike Shed as normal. On arrival we will confirm the position that you require the shed to be installed with you while maintaining the recommended safe distances of 2-3m. On departure we will show you the shed functions, while maintaining a 2-3m distance, and leave the keys in the lock of the shed. You may then remove and sterilise the keys. No handshake or sign off on completion will be necessary during this outbreak. 
Lead time
We will aim to deliver/install your Brighton Bike Shed within 10-12 weeks from receipt of your order. This is usually 20-30 working days but we have had to extend lead times due to increased demand (as of June 2020). You will receive an email to arrange a time and date that is convenient for you.